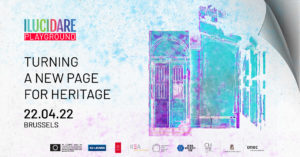 The ILUCIDARE Playground is back in Brussels and online for its final chapter on April 22! We are looking forward to welcoming you again to present ILUCIDARE's achievements and turn the next page for heritage together!
The event will revolve around the ILUCIDARE learnings and practical tools to support heritage-led innovation and international relations in future policy actions and cooperation projects. Participants will have the opportunity to discover the Innovation Handbook and the International Relations Display, to play with the ILUCIDARE Inspirational kits and the Capacity Building roadmap, and network with project partners and international guests.
We have curated a full programme of inspirational speeches and panel discussions with heritage practitioners and policy makers to share reflections and experiences from the three-year ILUCIDARE journey. The closing event will also crown the winner of the ILUCIDARE Challenge.
The event will be accessible from anywhere in the world through Facebook Event. The full program and registration (free) will be available soon.