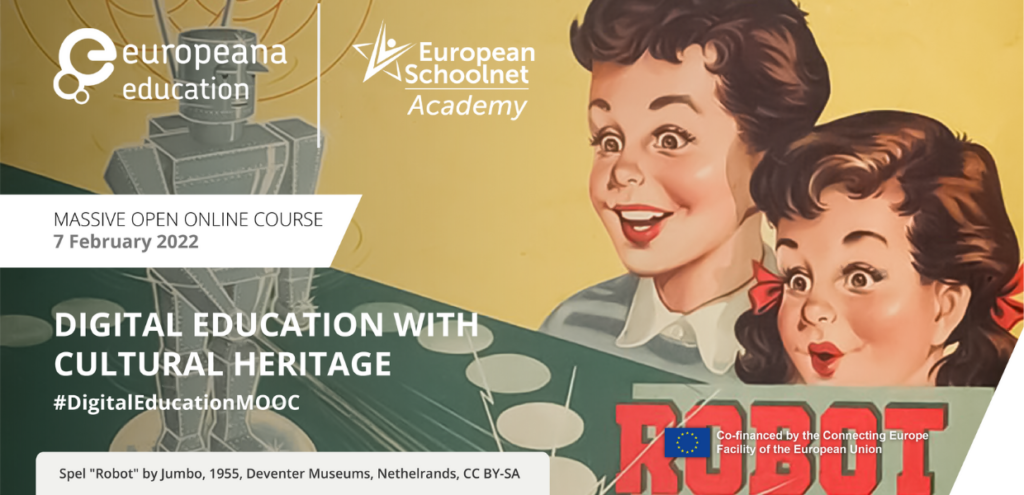 Cultural heritage has a crucial role to play in education, and Europeana wants to bring this source of knowledge to every learner, educator and educational organisation. One of the ways that we do this is through education MOOCs – or Massive Online Open Courses – which allow large numbers of participants to learn new skills and develop their knowledge through online teaching.
First run in 2021, the Europeana 'Digital Education with Cultural Heritage' MOOC aims to increase trust in digital cultural heritage as a primary source and empower teachers to use digital technologies. Last year over 2,100 people from 67 countries registered for the course and 547 participants completed the MOOC and received a certificate. 99% of post-survey respondents rated the course as good or very good, and 95% agreed or agreed strongly that they will use the ideas and examples presented in the course in their everyday work.
We were delighted with the response to the MOOC, and in February 2022 we will run an updated version in English. In March we will offer three additional language versions – Greek, Italian and Croatian. Aligned with the ambitions of the EU Digital Education Action Plan, the online course will explore the educational potential of digital cultural heritage and support teachers and educators to efficiently integrate it into their lessons and practices, regardless of the subject they teach. The final goal is to design engaging content for students, museumgoers and lifelong learners in order to prepare them as active and responsible citizens and to thrive.
What 
This MOOC makes use of Europeana's digitised collection of cultural heritage and content from the Teaching with Europeana blog, where participants will find resources in multiple formats (pictures, videos, texts, 3D items) and multiple languages. It also features tools like Transcribathon, Historianaand other ready-made materials that educators can easily integrate in their educational activities. The course will introduce the learning scenario template and guide participants to use it and build their own. It includes a selection of videos with tested learning scenarios designed by educators from different countries.
The course is organised around the principle of peer learning, with content designed to stimulate reflection and discussion so that participants can learn from each other's experiences and ideas. In order to complete the course, participants are required to submit a final course product and review their peers' work. Participants will receive a digital course certificate and digital course badge upon completion of the full course.
Who 
The course also aims to foster connections between schools and cultural heritage institutions like museums and libraries. So whether you are a teacher (of any subject or level), a non-formal educator, or someone with an interest in designing educational activities using Europeana, we welcome your participation! Other educational professionals and stakeholders, like heads of schools, school support staff and policy makers in education and  culture are welcome to join too.
When
The course starts on 7 February 2022 and will run for 6.5 weeks. Modules open one by one each week, followed by around 10 days to complete the homework. The course consists of five modules, with a peer-reviewed final activity developed and offered in English, and a workload of about 25 hours in total. Stay tuned for the Greek, Italian and Croatian versions starting 28 March!
For more information and to register for the course, please visit the website of Europeana.