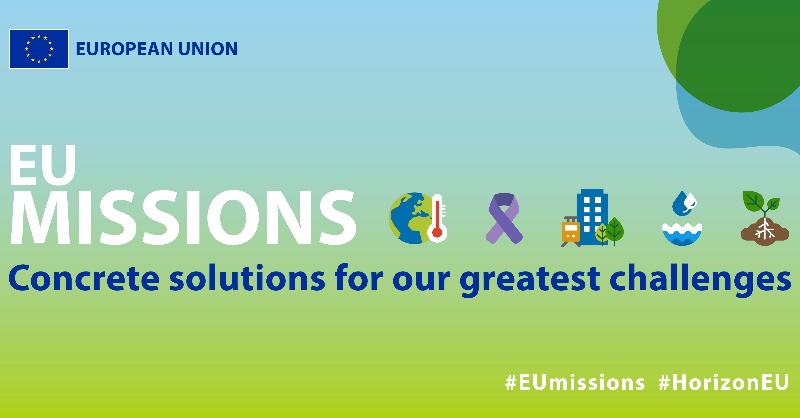 The Commission has adopted an amendment to the Horizon Europe work programme for 2021-2022, increasing the total budget to €15.4 billion: that is an increase of €723 million compared to the original budget of €14.7 billion. This new budget includes €673.24 million dedicated to the roll-out of EU Missions, which were launched in September to tackle big challenges and achieve ambitious goals in health, climate and the environment by 2030.
Missions aim to address some of the greatest challenges facing our society. They are bold and inspirational with clear objectives that are time-bound, realistic, measurable and targeted. Rooted in research and innovation, missions aim to tackle societal challenges with systemic solutions, leading to societal transformations and social impact. Missions will help deliver key EU policy priorities such as the European Green Deal, Europe's Beating Cancer Plan, NextGenerationEU, the EU Industrial Strategy and A Europe fit for the Digital Age, amongst others.
Missions are a novel instrument in Horizon Europe – the Framework Programme for Research and Innovation. For their successful implementation they will work in synergy and coordination with other missions, parts of Horizon Europe, in particular with European Partnerships and Clusters, and including also bottom-up parts such as the Marie Skłodowska- Curie Actions, the European Institute of Innovation and Technology or the European Research Council, as well as with other EU funding instruments and policies. Furthermore, they will need to be implemented in close synergy with funding, programmes and strategies both at Member State / Associated Country and regional level, as well as with civil society and the private sector.
Five mission areas have been included in the Horizon Europe Regulation (Adaptation to Climate Change, including Societal Transformation; Cancer; Healthy Ocean, Seas, Coastal and Inland Waters; Climate-Neutral and Smart Cities; Soil Health and Food). Mission boards, comprised of external experts with a wide variety of backgrounds, have been established to advise the Commission on possible missions within the scope of these ar eas.
19 new calls dedicated to the five EU Missions are announced and the the first round of these calls will open on 22 December 2021 and the second will open on 11 January 2022. To facilitate the heritage research community, we have handpicked the calls that are related to to the cultural heritage field and you can consult them below:
Call Topic – Support the deployment of lighthouse demonstrators for the New European Bauhaus initiative in the context of Horizon Europe missions
Topic ID: HORIZON-MISS-2021-NEB-01-01
Deadline: 25 Janurary 2022 Brussels time
Relations to the cultural heritage field: Challenges linked to the use, preservation and reconversion of existing infrastructure and heritage.
Call Topic – Piloting citizen science in marine and freshwater domains
Topic ID: HORIZON-MISS-2021-OCEAN-05-03
Deadline: 12 April 2022 Brussels time
Relations to the cultural heritage field: To create stronger public connection and engagement with the ocean and waters, the Mission will draw on the power of arts, media and culture.
Call Topic – Better prepared regional and local authorities to adapt to climate change
Topic ID: HORIZON-CL2-2021-HERITAGE-01-01
Deadline: 14 September 2021 Brussels time
Relations to the cultural heritage field: regional and local authorities adopt an integrated approach to solutions addressing climate change adaptation and climate resilience, namely no/low-regret adaptation solutions with co-benefits of adaptation actions for mitigation, zero pollution, biodiversity (e.g. nature-based solutions), resource efficiency, the economy, society, cultural heritage, human health and well-being.
Call Topic – Collaborative local governance models to accelerate the emblematic transformation of urban environment and contribute to the New European Bauhaus initiative and the objectives of the European Green Deal
Topic ID: HORIZON-MISS-2021-CIT-01-02
Deadline: 14 September 2021 Brussels time
Relations to the cultural heritage field: Supporting cities in engaging with e.g. schools, universities, culture and arts professionals and institutions, citizens and civil society to harvest the needs, trends, challenges and expectations of citizens and communities in terms of quality climate- neutral urban transformation, in line with the New European Bauhaus initiative's objectives and to start exploring how to match those needs with the existing possibilities.
To learn more, please visit the website of the European Commission. You can also read the Work Programme 2021-2022.