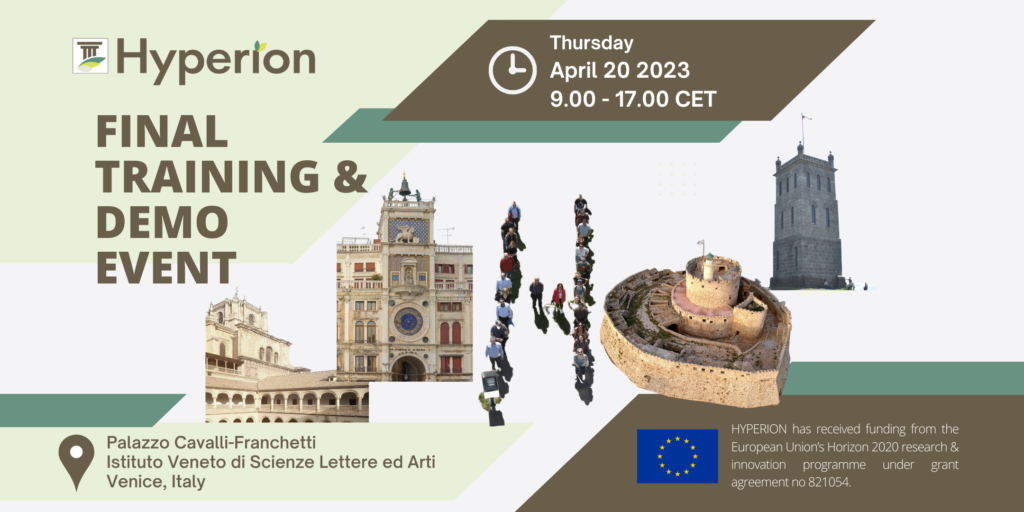 After more than four years full of research, the journey of the EU project HYPERION comes to an end with remarkable achievements in Cultural Heritage preservation! The project's consortium is very pleased to invite you to its Final – Training & Demo Event on the 20th of April 2023 from 9:00 am to 5:00 pm at the Palazzo Cavalli Franchetti | Instituto Veneto di Scienze Lettere ed Arti in Venice, Italy.
To  join the event make your registration here: https://go.iccs.gr/8ifthgd
The HYPERION Final Event, dealing with Cultural Heritage resilience against Climate Change is organized by the City of Venice, the Iuav University of Venice, the University of Padova in collaboration with HYPERION's Coordinator ISENSE Group of the Institute of Communication and Computer Systems (ICCS) of the National Technical University of Athens.
At this key event, a series of interactive presentations and demonstrations will showcase how HYPERION has developed an integrated resilience assessment platform using existing tools and innovative technologies. This platform will help local authorities representatives and cultural heritage managers to gain a better understanding of the threats and dangers of tangible Cultural Heritage sites and make decisions for a swifter and more effective response, contributing to the sustainable reorganization of the historical regions under threat.
For more details and to go through the event's agenda, please visit here.