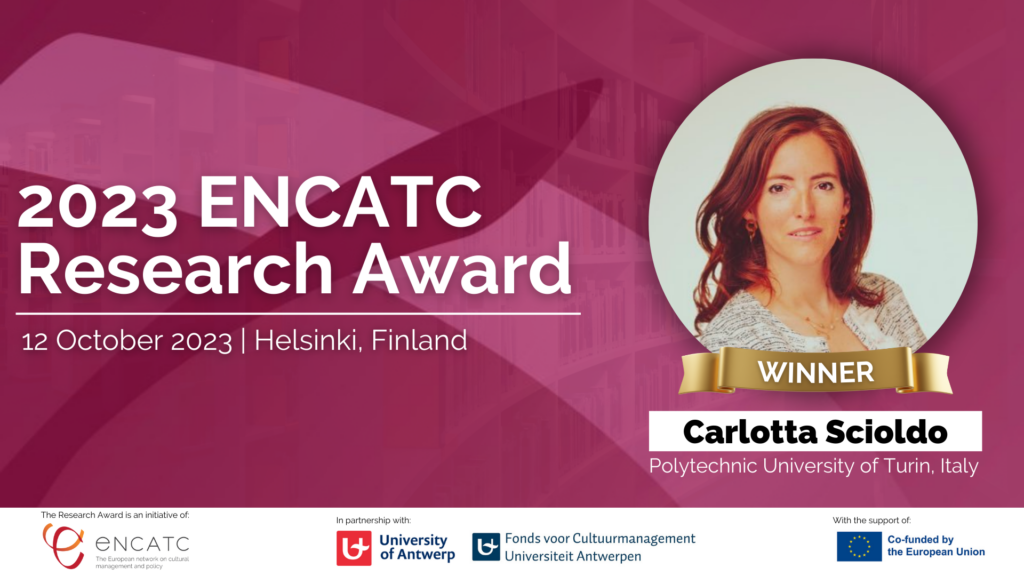 ENCATC, the leading European Network on cultural management and policy, isthrilled to announce the winner of the prestigious 2023 edition of the ENCATC Research Award. This annual award recognizes outstanding research contributions in the field of cultural management and policy.
After a rigorous evaluation process by a distinguished jury of international experts, the winning research project was selected for its ground-breaking insights and significant impact on the cultural sector. The research project titled "Transnational Networks between European Governance and Local Chance in the Cultural and Creative Sector, if not for harmonizing Policy, then what?", innovates in the analysis of European networks policy projects and strategies.
The recipient of the 2023 ENCATC Research Award, revealed at the annual ENCATC Research Award Ceremony held in Helsinki on the evening of 12 October, in the frame of the 2023 ENCATC Congress, is Carlotta Scioldo. As a researcher and consultant focusing on EU cultural policies, Carlotta has acquired a multifaced view of the cultural and creative sector in Europe. Her fundamental drive is to bridge the communication gap between the cultural sector and policymaking, ensuring that the functioning and aspirations of the artistic field are effectively conveyed. With this motivation, she has worked as dance dramaturg, joined the Creative Europe Unit at EACEA, and served as Network Manager and Policy Advisor the European Dancehouse Network.
The winner will have her work published in the form of a book inside the ENCATC Advances in Cultural Management and Policy, published by Routledge, the world's leading academic publisher in the Humanities, Social Sciences and STEM. Read the press release here.